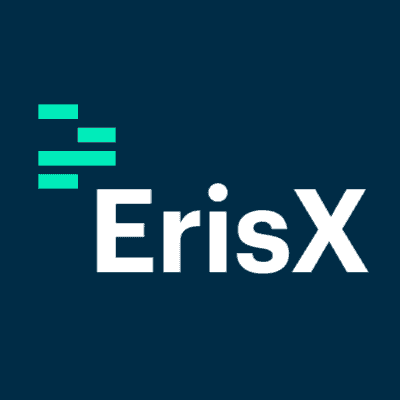 Please check out our Webinar with John Denza, Chief Commercial Officer @ ErisX (now CBOE Digital) where we reviewed the benefits and features of the ErisX cryptocurrency exchange as well the steps required to open an ErisX (CBOE Digital) account for your Self-directed Solo 401k to invest in digital currency such as Bitcoin, Ethereum, and other cryptocurrencies.
VIDEO SLIDES: How to Open an ErisX Cryptocurrency Account for your Self-Directed Solo 401k
"A to Z" Guide – Open Self-directed Solo 401k account at ErisX
John Denza, Chief Commercial Officer @ ErisX

Benefits & Features of ErisX

What is Cryptocurrency
Taxation Considerations
How to Invest/Buy with Funds in an Solo 401k
Establishing & Funding Solo 401k
How to Open Solo 401k Account at ErisX
Purchase
Storage
Practical Tips
Get more info
What is Cryptocurrency?
Per IRS Revenue Ruling 2019-24:

Virtual currency is a digital representation of value that functions as a medium of exchange, a unit of account, and/or a store of value.
Cryptocurrency is a type of virtual currency that uses cryptography to secure transactions that are digitally recorded on a distributed ledger, such as a blockchain.

Popular cryptocurrencies:
IRS View on Taxation of
Cryptocurrency
The IRS has issued guidance that cryptocurrency will be treated as property for federal tax purposes (see e.g. IRS Notice 2014-21).
Outside of a retirement account: the income or gains from the sale of cryptocurrency will be subject to capital gains tax rates (short-term or long-term as applicable).
Inside a retirement account: the gains/income derived from a cryptocurrency investment are tax-deferred (or potentially tax-free in the case of a Roth Solo 401k account).
Possible exception: If you invest your Solo 401k funds in mining cryptocurrency, the income generated may be subject to unrelated business income tax (UBIT) if the mining is considered an active trade or business.
Getting Started – ErisX Account Setup
(i) Your name (or names if multiple participants);
(ii) Name of your Solo 401k plan;
(iii) If you wish to open more than one account, the number of sub-accounts that you will need such as two (2) if you wish to invest both Pre-tax & Roth funds or four (4) if there are two participants who each wish to invest Pre-tax & Roth funds.
ErisX will then send you the application(s) and agreement(s) to complete via DocuSign
Do Not sign up online through the "Sign Up" link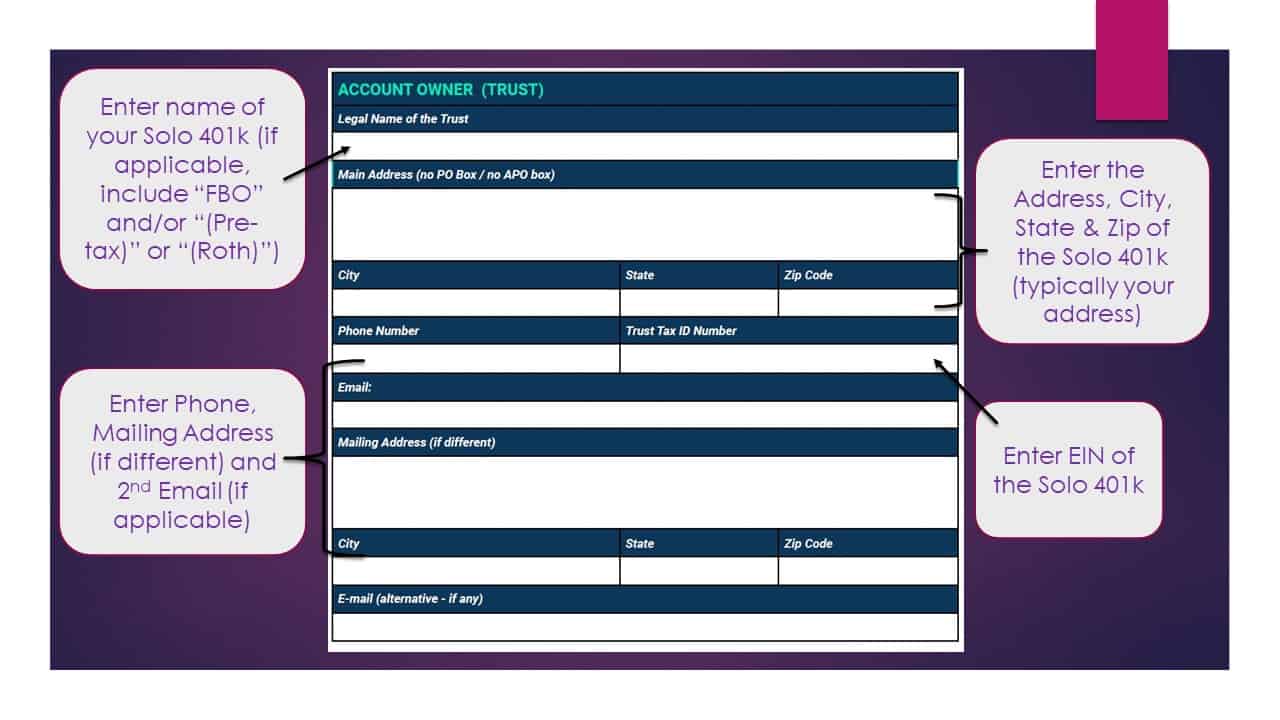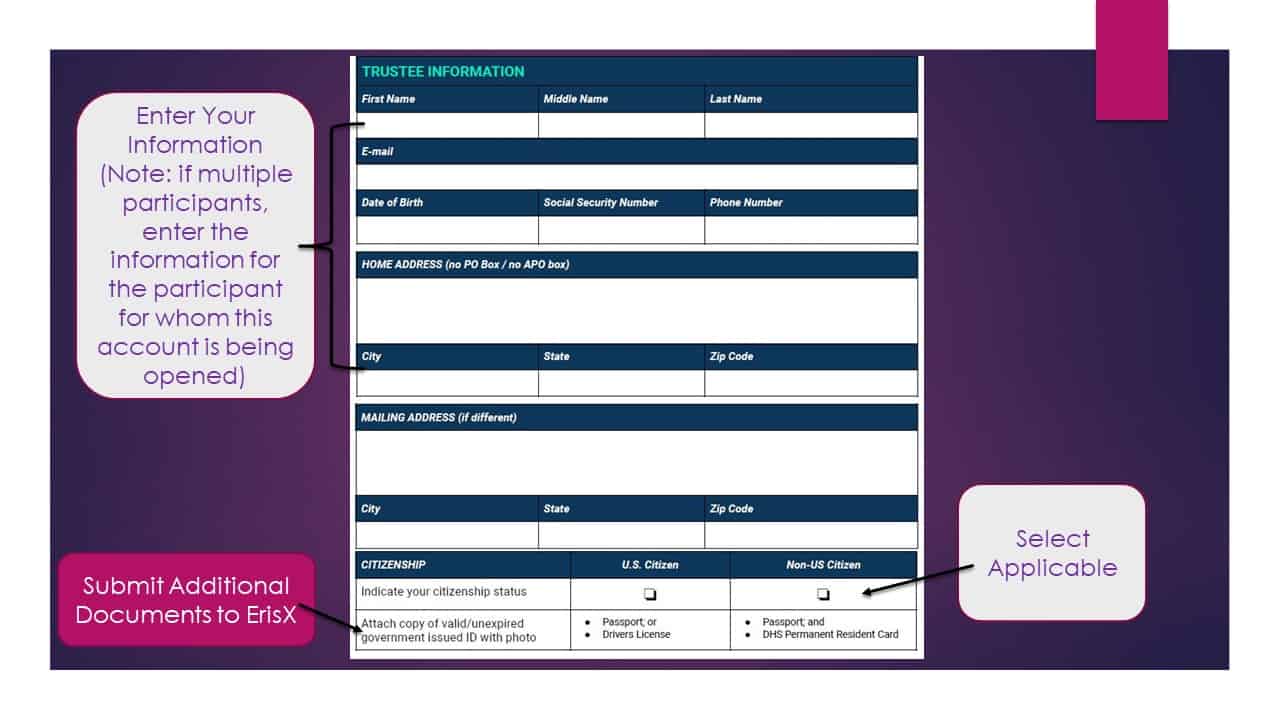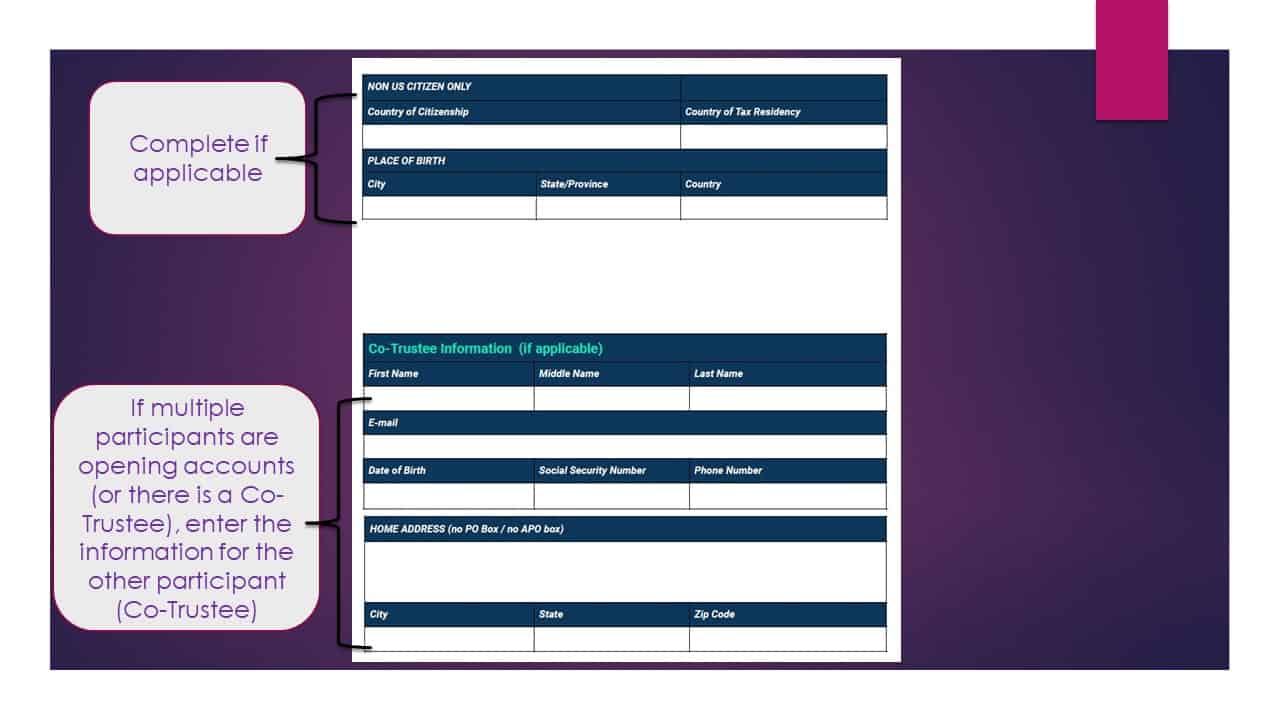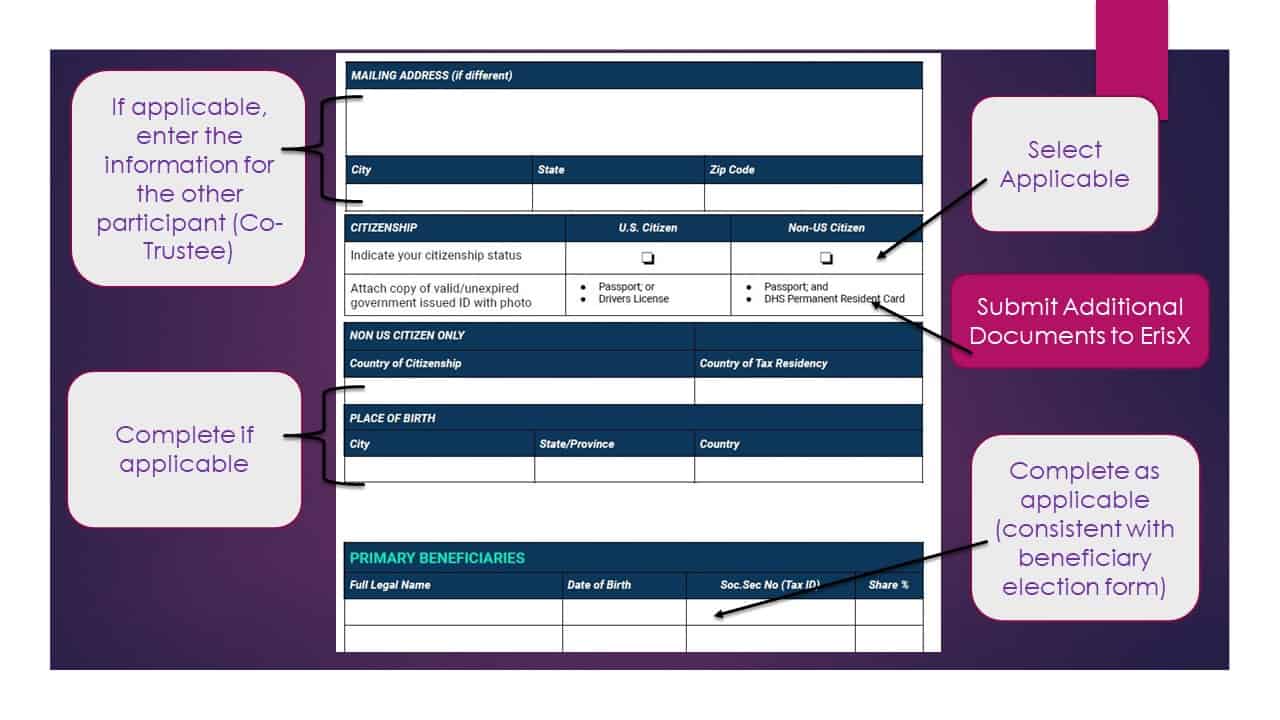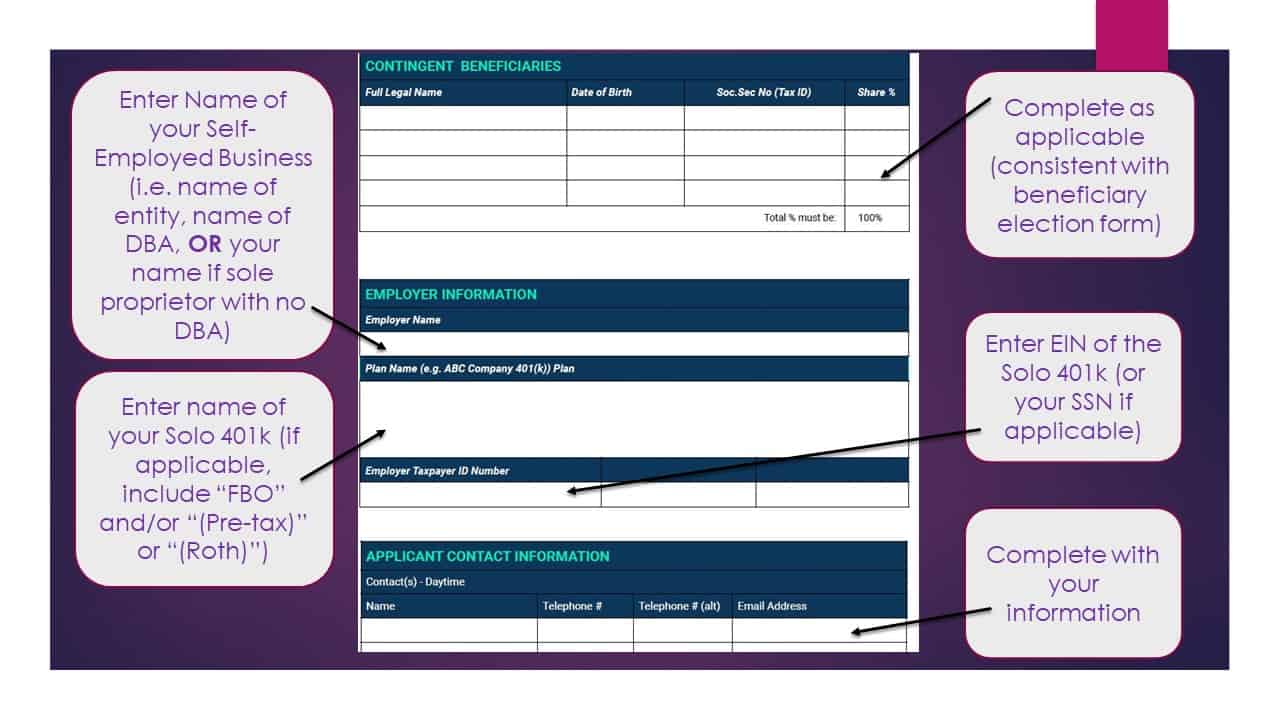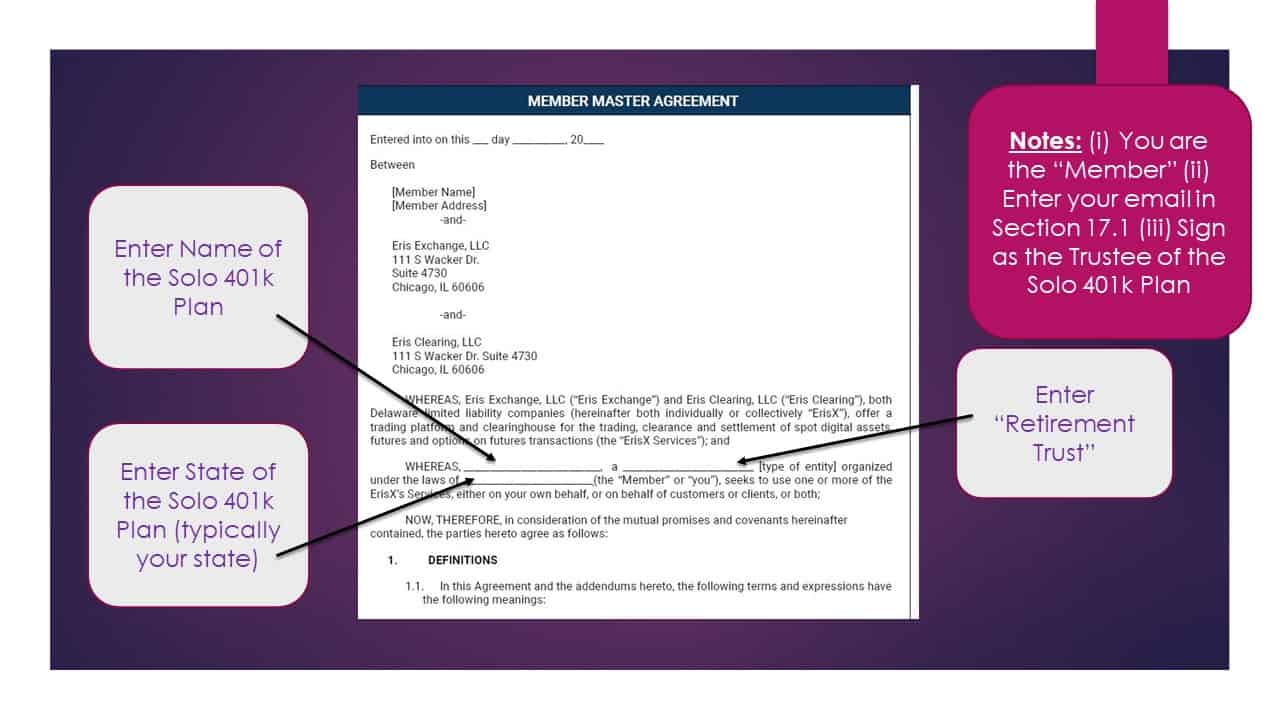 Sample Cryptocurreny Account Setup –
ErisX (continued)
Additional Documentation Needed:

ID (e.g. passport or state-issued ID card) for each Trustee
Copy of Trust Agreement & Adoption Agreement

Included in the Solo 401k Establishment Documents
Note: This will satisfy the "Appointment and Acceptance of Trustee"

Copy of the IRS EIN letter for the Solo 401k Plan
Signed w9 form

Provide 401k EIN which is included in the Solo 401k Establishment Documents