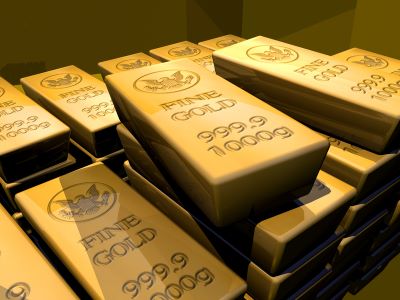 Solo 401k funds may be invested in precious metals such as gold and silver provided the IRS requirements outlined in Code 408(m) are satisfied.
Most investors believe the greatest advantage to coins or bullion is that their value generally keeps up with or exceeds inflation rates. However, investments in coins or bullion also have disadvantages. For example, no current income, such as interest accrual or rental income from real estate, is associated with coins. In addition, the coin market is often sporadic.

Video Slides: Investing a Solo 401k in Precious Metals
Precious Metals dealers
Below are some links of brands acceptable in a Solo 401k.
https://www.cmegroup.com/trading/metals/
http://www.lbma.org.uk/prices-and-data
Metals Purchase Invoice
Have the Precious Metals dealer prepare the purchase invoice in the name of the Solo 401k F.B.O your name as trustee.
Purchasing the Metals
If not done by wire, write a check from the Solo 401k checking account payable to the precious metals dealer and send the funds directly to the Precious Metal dealer with instructions to where to deliver the metals.
Shipment of the Precious Metals
The dealer will then send the precious metals (e.g., gold and silver coins) to either:
You as Trustee of Solo 401k plan for storage at the local bank or credit union, or
Don't Invest in Disallowed Metals
Don not purchase disallowed metals. Click here to read our blog regarding the negative consequences of investing solo 401k funds in disallowed metals:
Additional Information: Click here to read our blog regarding acceptable metals that may be held in a solo 401k.
No Krugerrands QUESTION:
Your blog indicates that American Eagle Gold Coins are an acceptable investment  per IRS rules. You also mention Canadian Maple Leaf as acceptable. Why wouldn't other similar investment grade coins like the Krugerand qualify ?
ANSWER:
No Krugerrands and Double Eagle coins are not allowed because they don't satisfy the pureness level requirement of  .995 fineness (99.5% pure).
Liberty Coin QUESTION:
Within my solo 401k, am I able to purchase the $20 gold US. Liberty coin, which at one point was legal tender, but now is graded as a numismatic coin?
ANSWER:
No because the purity is only 90% fineness not the required percentage of 99.5% for gold coins.
Distribution QUESTION:
I am now over age 59 1/2. I have put some of my Solo 401k into precious metals.  Would I liquidate desired amount and send proceeds to the Wells Fargo bank account that was set up for my Solo 401k? Or is that only for business income?
ANSWER:
Correct that since the solo 401k invested in metals, the proceeds from the sell of the metals have to flow back to the solo 401k bank account, and you can subsequently take the cash distribution(s) from the solo 401k plan after you fill out the required solo 401k distribution form. CLICK HERE to learn about the solo 401k distribution rules.
Options Question:
I have 2 options of storage, with a depository like Delaware Depository, or a bank/credit union. I know in the event of a depository bankruptcy, the gold at a depository would still be mine. Would you know what would happen if the bank were to go bankrupt? Say in the event of what happened in the Great Depression? That would be a factor in my decision.
ANSWER:
Good question. However, FDIC insurance does not apply to investments including metals. See the following: https://www.mysolo401k.net/fdic-sipc-protection-self-directed-401k-solo-401k-self-directed-solo-401k/
Dealers Question:
In my research stage for a precious metal dealer, I had came across a company called American Bullion, located here in LA. And they tried to convince me to abandon ship here, and go with their internal gold IRA service. I told them straight out that wasn't happening. I know you guys have had thousands of customers work with your company. Would you know what are the handful of popular and reputable gold dealers your other customers tend to use to purchase gold bullion? I would love to look into the existing pool while I conduct my own research.
ANSWER:
While clients don't generally disclose their investment providers, see the following. 
https://apmddealers.org/
https://www.apmex.com/
https://firstnationalbullion.com/
Bank is Asking for Certificate of Trust Question:
My bank is requesting a Certification of Trust to open the safety deposit box for holding the solo 401k owned precious metals.  I didn't see one in my account documents. Do you happen to have an example or one for my account?
ANSWER:
While a certificate of trust is not a standard solo 401k plan document, but rather a banking document, we will draft and provide one for your bank to open the solo 401k safety deposit box for holding the precious metals. 
Valcambi CombiBars
Question:
I'm wondering if the gold Valcambi CombiBar is an eligible product for my self-directed solo 401k, the listing I read online it's IRA eligible.
ANSWER:
Yes the solo 401k rules allow for investing in bars and rounds as long as they are  produced by manufacturers accredited by Nymex/Comex, LME, LBMA, NYSE/Liffe/CBOT, and ISO-9000 or a national mint
The minimum finesses for bars are:
 Gold .995+
Valcambi gold bars appear to have a purity above .995 and appear to be manufactured by LBMA.